Hello, crafty and sundry!
I fell down the wormhole again… sorry about that. Computer problems tends to make me really bad about blogging 'cause the energy that would have happily gone to nattering about things gets eaten up by fret and stress. And also, it meant that I couldn't get my gaming on in a meaningful fashion, as the problem was the graphics card overheating over nothing. While I still adore Serf City:Life is Feudal, I *really* wanted to play something more modern (in this case, Anno 2070). While things aren't fully resolved (I need to send my graphics card to be repaired or replaced), at least I was able to pillage one from an old computer, which seems to be working well enough for my basic gaming needs.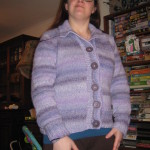 So really, I guess the main thing I can tell you is that my cardigan is complete… minus one button because I accidentally ordered too few, but close enough. I am very happy with it as a first, proper big 'for me' project, though I definitely look forward to it getting squished up and a bit flopper, hee hee. Not that it's stiff per se, but I feel a good wash and dry will see it fitting me a bit better in places like the arms (which feel very slightly poofy in my head). But really, it's super comfortable, and the only actual complaint that I can make is that my hands keep reaching for pockets that aren't there. It's because of an old cardigan my sister gave me years ago that really needs to get binned. It has pockets at the front, and I guess my brain has decided this makes a suitable replacement, even if it doesn't have a hood. I think my next one might have to have a hood. I really like hoods, hee hee.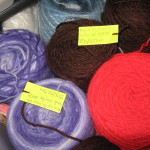 I also finally got around to doing something I've been meaning to do for years — I've wound all my stash into pretty little cake skeins. I'd picked up a winder in late 2012 or 2013 when someone had brought a bunch of knitting goodies to pick over to Stitch 'n Bitch one night, and it had been sitting in a drawer doing nothing. One the lasses had shown up with a wound up ball of wool she'd gotten from me at the Christmas party, and I was charmed and decided I needed to do the same to all of mine. I'm glad I did! It gave me a chance to take stock of what I had, to tag it (as you can see), and of course, I made more space. I compressed 5 full drawers into 3 full drawers. That's right, I have spare room now, ha ha. Having said that, I really don't feel the need to get more wool right now — I want to work through what I have to hand first. We'll see how that resolve lasts, but considering I'm the most nascent of wool snobs (which is to say, really not at all)…
For now, I'm taking a break and doing another small project to wash my palate — another pair of socks. This pair is for my bigger girl, and in the wool colour she picked out of my stash. I'm betting she won't wear them like she won't wear the shirt I made to her specifications, but ah well. I'm not going to get offended by a kid being a kid. Besides, I'm still having fun, right?
<3