Hello, crafty and sundry!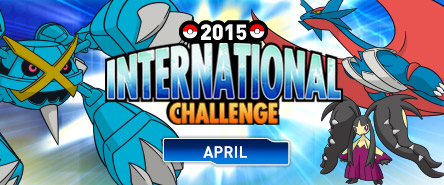 I've had my head down most of the weekend trying to make a decent showing in the Pokémon International Challenge. Suffices to say, I'm 99.9% sure that I will not be competing past this initial stage. Out of the 28 battles I completed, I won six. That's about a fifth of my battles won, which would certainly not be good enough to get me into any further rounds of this particular contest. But you know what? I signed up. I took part. I gave the best showing I could, so I can't actually complain.
The battle format was also a bit of a problem for me — it was double battles. I vastly prefer single battles, and while I feel that I put together a good team for the competition, it was a team that would have been 500% better for single, one-on-one rather than two-on-two. Double battles require a completely different approach, to include moves that affect more than one Pokémon, building a team with pairings in mind, and in general, the inclusion of strategies that one might not apply their precious four move slots to in other circumstances. But I guess that's part of the the appeal of Pokémon through the generations — you have a variety of things you can do within the same basic structure, whether it be prepping for a style of battles, shiny hunting, specialist breeding, or doing Pokémon Contests! While my main focus right now is filling up my Pokédex by hook or crook, I think I am going to have fun in future going back and doing a bit of all of the aforementioned.
---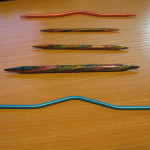 I finished the cabled hat I was making for the baby. I have to say, as said before, that cabling is fairly easy and a lot of fun. I also tried out both of the types of the cabling needles I purchased. The straight ones have notches on them to hold the stitches, while the kinky ones are the classic non-straight approach to holding onto those few stitches until you pick them back up and work them. With the bog-standard acrylic I was using for the hat, I definitely preferred the kinky ones. They both held the stitches well and permitted easy movement. On the other hand, the ridged ones held a bit too securely, making it difficult to move the stitches along and back into being worked. I am thinking that they will be best to use if I'm working with an especially slippery wool, but I guess I will see when that occurs. In the interim, I'm just happy to have both to experiment with!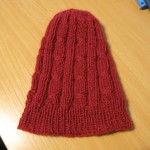 Of course, now that I've finished a small project, I'm diving headfirst back into my cardigan! Oh, except not, ha ha. I have in mind that I should try my luck at doing a small project right-handed for practice instead. One of my dear friends is intending to do hates for Baby Beanies, a charity here in the UK that makes hats for preemie babies. Her son was very premature, and so they had nothing that fit a baby that small. The hat donated is something she's kept and treasured, and now that she can knit, she wants to pay it forward. I figured that doing a little hat for charity would rock, and would be the perfect size to practice my right-handed knitting. I cast on and started to do rib, but that's way too freaking awkward right-handed at this stage, as I've not mastered the best way to purl OR knit yet. So instead I'm casting on for one without ribbing, and we'll see how it goes. At the worst, it's made me work on my cardigan to vent frustration, so that's good and productive too.
<3